99 Rock Presents
THEORY
with Spirit Animal
Tue, Oct 8
Doors: 7:00 pm
Show:

8:00 pm
Ages 16 and Up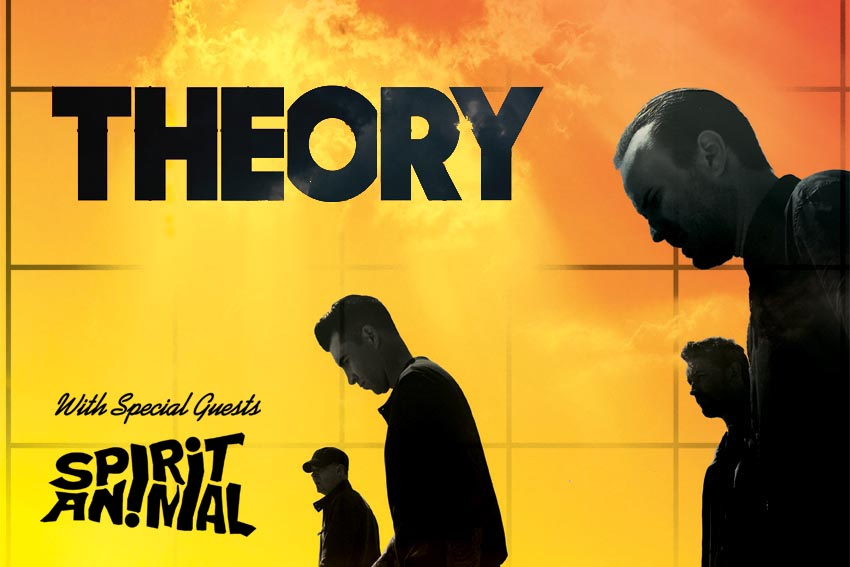 Artists
THEORY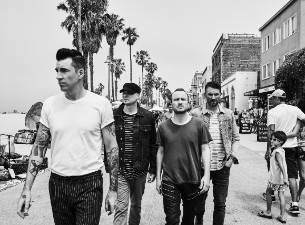 THEORY
WAKE UP CALL
"Complacency is such a disease when you're in a band," says Tyler Connolly, singer and guitarist for Theory. "People are so afraid to progress, but you have to change—you can't just write the same song over and over. So when I saw where this record was going, I said to the other guys, 'We're in a car and it's going off a cliff. Do you want to jump out or ride it to the bottom?' "
With their sixth studio album, Wake Up Call, Theory hit the reset button, diving into a new sound, a new approach, even a new location. The more melodic, intimate style that defines the project is a bold move for one of the leading rock bands in the world. Since forming in British Columbia in 2001, Theory of a Deadman—Connolly, guitarist Dave Brenner, bassist Dean Back, and drummer Joey Dandeneau—have placed nine songs in the Top 10 on the rock charts, including the Number One hits "Bad Girlfriend," "Lowlife," "So Happy," and "Angel."
Following the success of 2014's Savages album (which reached the Top Ten on the Hot 100 albums chart, and topped both the Alternative and Hard Rock charts), Connolly began writing again, but he was frustrated by what he was hearing. "The songs all felt like they were in the same place as the last record," he says, "and I wasn't happy, I just didn't like what we were doing."
He bought a piano for himself, an instrument he had never played, and he soon discovered that it was unlocking something new. "I started writing songs that felt musically different," he says. "It opened my mind to different ideas, and I think that was the catapult for where this album went."
But maybe this story starts much further back. Connolly's father was a piano player, and he grew up surrounded by the sound of the keyboard. "As soon as I started noodling, thirty years of hearing my dad play opened up this whole thing that didn't exist before," he says. "There were sounds I heard my whole life but ignored, ingrained inside me.
"It was crazy how fast stuff came out of me," he continues. "Every time I sat down at the piano, I would write a song. And I don't think I've ever felt such freedom—I could write anything, I felt no fear about upsetting people or pressure to write any specific kind of song."
Connolly noticed a shift not only in the melodies he was coming up with, but in the words as well. "When I finished the lyrics to 'RX' [the first single from Wake Up Call], I felt like I had something to say. I really wanted to write great lyrics, not just throw stuff on there or give the fans something to crank up in the car."
The songs also tapped into a new sense of maturity, even contentment. "On our fourth record [2011's The Truth Is…], I had just gone through a divorce and I was so angry, stuff came out that was really hateful," he says. "This time, there's much less aggro stuff—nothing comes from a place of spite or anger."
Connolly and drummer Dandeneau worked up demos for the new songs via email, initially trying to make them "as naked as possible." Only when they went into the studio did they think more consciously about how to present the new material; as Connolly says "to put the clothes on—like, 'Does this one need jeans or a suit?' "
The band's next decisive move was to commit to a new producer for Wake Up Call. In fact, though, Martin Terefe—who has worked with a wide range of artists including Jason Mraz, Mary J. Blige, and Train—expressed interest in collaborating with them first. "Our label sent Martin some of the songs blind," explains Connolly, "and he heard them and said, 'Is this a pop artist?' They told him no, it was the opposite, it was a rock band, and he said he wanted to do it."
Theory headed to Terefe's Kensaltown Studios in London for a grand experiment. "It was like a first date," says Connolly. "He was on ground he was not comfortable with, and everything seemed so scary to us—everything he suggested was the opposite of what we wanted. We definitely had some sleepless nights, but we just had to jump in the water and go for it."
Songs went into directions that surprised the band members. Dandeneau was especially taken with the sparse demo of a song called "Time Machine," but in the studio it assumed a more breezy and rhythmic feel.
Listening back to the album on the final night before they headed home, the band got to the track "Loner" and suddenly felt dissatisfied. "It was just terrible!," says Connolly. "We were all like, 'What happened?' So it's the last night, we're eating dinner, and we said, 'Let's just bang it out.' We deleted it and started over, slowed it down and changed the key, and we finished that night. It was such a pat on the back to the band that after seven weeks, we knew we could track a whole song in a few hours."
Connolly points to the song "Echoes" as a breakthrough for both his writing and his vocal performance. "It's a very U2-ish song," he says, "kind of that one-take, 'Where the Streets Have No Name' feel, and I've never really done that before. 'Echoes' really hits home with me—as you get older, you have more past and less future, more memories. It's so hard to let go of all those past things, the things that I think about when I'm going to sleep.
"Martin made me sing in this big room with everyone else watching," he continues. "It was so emotional, you can hear my voice cracking—I'd never had that hard a time getting through a song. But I felt such attachment to these songs, you can really hear it in my voice."
In the year leading up to Wake Up Call, Theory released a series of unlikely covers—"Hallelujah" (which came out the week of Leonard Cohen's death last November, though it had been recorded months earlier), Sting's "Shape of My Heart," "Cold Water" by Major Lazer. "Those were just me sitting at home bored, trying to get outside the box," says Connolly. "They're all so out of my element and so difficult to sing."
One of these covers, Chris Isaak's "Wicked Game," makes for an unexpected closing track on the album. "We had a bunch of great songs and didn't need to throw in a cover," says the singer, "but we thought this one could turn into something great."
Now comes the challenge of integrating this new material alongside the band's beloved catalogue on stage. "There's a real dichotomy of Theory now, two very different sides," says Connolly. "Not that we want to get away from our old songs, but the new songs are so diverse, such a juxtaposition. We've been playing 'RX' and it's super-different, and we'll add another couple in the fall tour. We're really working on building a big show, and trying to make it all more visual, as well."
Tyler Connolly knows that the ambitions of Wake Up Call—from its more atmospheric songs to its most propulsive and beat-driven—may meet with some resistance from Theory's fan base. "It might be a little awkward, but we were always a songs band, not a sound band—we're not AC/DC," he says. "We've also been seeing that rock music was becoming smaller, more of an invite-only clique, and we really wanted to make something big and very progressive for us. And hopefully, the rest of the bands will cheer us on, and maybe be a little less afraid to try something different."
Spirit Animal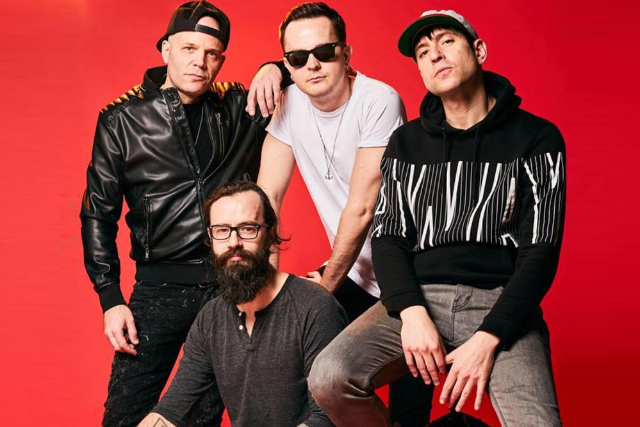 As much as music should outlast the times, it should also speak to them.
On Spirit Animal's 2018 full-length debut, Born Yesterday, the band not only proves
808s and guitars can coexist in harmony, they also craft airtight songs that would
delight in any era. Hailing from Brooklyn, NY, singer Steve Cooper, guitarist Cal
Stamp, drummer Ronen Evron, and bassist Paul Michel make music that both bottles
and transcends the moment.
"Something special happens when you dump a bunch of genres into a blender and
just let it rip," says Cal. "We want our songs to move in unexpected directions. We'll
take what we love about Arctic Monkeys or Kendrick Lamar or James Blake and pull
the pieces together into something cohesive, new and fun. Nobody listens to just one
kind of music anymore, so why write that way?"
"Songs come together from every angle," adds Steve. "Sometimes it's four guys
jamming in a room. Sometimes it's one person producing on a computer. Sometimes
it's two of us, a co-writer and an acoustic guitar. We lean into not knowing what will
come of a session and take every risk we can. If we don't do it, who the fuck will?"
Spirit Animal as we know it, though, nearly never happened. Introduced by a mutual
friend, Cal initially passed on the opportunity to join the group as a guitarist. But after
catching the band's bombastic live show one night at Pianos in downtown Manhattan,
he changed his mind. "I wanted to have as much fun as they were having on stage,"
he admits with a laugh.
A "poptimist before the word existed," the guitarist's sensibilities dovetailed nicely with
the other members' eclectic tastes. Although Paul's roots were in the D.C. hardcore
scene, Ronen studied at Berklee College of Music, and Steve grew up on a strict diet
of rap music, the guys bonded over a shared desire to push boundaries. "We've
changed each other drastically," Steve says with pride.
The group's efforts began with the single "The Black Jack White," which quickly
topped a million plays on Spotify. Building a buzz, the band landed looks from
Consequence of Sound, Entertainment Weekly , and The Washington Post . 2016's
World War IV EP yielded the staple "Regular World," which clocked over 2.9 million
Spotify streams. They toured relentlessly along the way, developing a diverse and
devout audience. Signing to Atlantic Records in 2017, the band wrote and recorded
what became Born Yesterday at Steve's apartment, as well as studios in New York,
Los Angeles and Nashville.
"We want this album to stick with you, but we also want it to be fun," Cal says. "It's
more than just a good time, but it shouldn't feel like more than a just good time."
The first single, "YEAH!" pits sparse pop verses against a wild, distorted chorus.
Punctuated by fingersnaps and an oft-repeated chant that lends the song its name,
lyrics veer from plaintive irreverence ("All I wanna hear you say is/You put me on your
love songs playlist") to disorienting commentary ("Give 'em all a raise/Give 'em
Marvin Gaye/Give 'em Michael Bay").
"It's about fame's relationship to the real and the fake," says Steve. "This tornado of
pop culture touchstones -- similar to Billy Joel's 'We Didn't Start the Fire' or the bridge
to Madonna's 'Vogue' -- makes it all mean something, but you're not sure what.
You're supposed to question it, the way the modern world makes you question
yourself."
Elsewhere on Born Yesterday , "Karma" opens with a punchy bass riff before
launching into a gleeful, stadium-sized ode to underachievement ("What do you want
me to say?/I'm the Jordan of making mistakes!").
For the piano-driven "JFK," Spirit Animal teamed up with producer Ricky Reed (Jason
Derulo, One Direction) for a more bass-heavy sound. "It's a little more serious and
contemplative," Steve says. " ' JFK' explores the gift-and-curse of having power and
attention, but being a target as a result. You carry that around. You live with both. It's
not all good and it's not always predictable."
Unpredictability is Spirit Animal's bread and butter.
"We went from losing our indie deal to signing with Atlantic and working with our
favorite producer," says Steve. "In this game, anything's possible. Our music shows
that."