99 Rock Presents
Reel Big Fish
with The Aquabats, Dog Party
Sat, Jul 6
Doors: 6:30 pm
Show:

7:30 pm
All Ages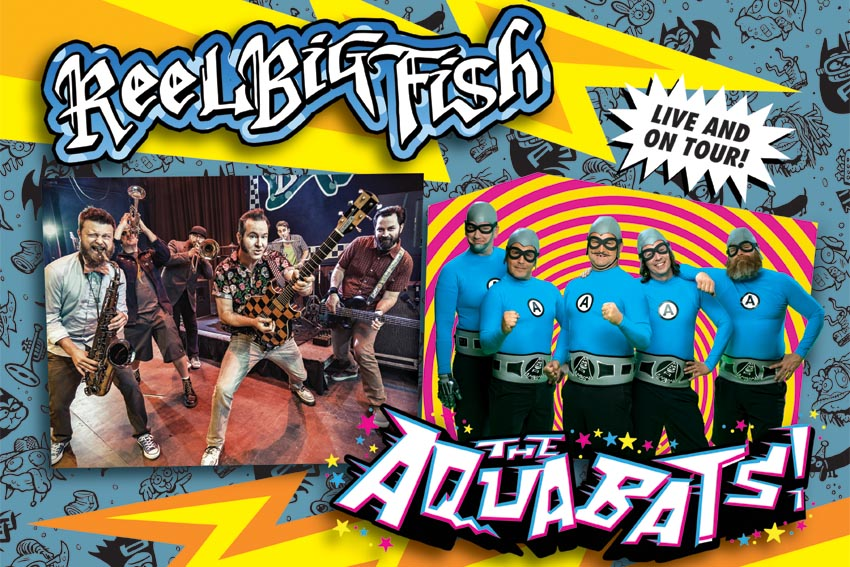 Artists
Reel Big Fish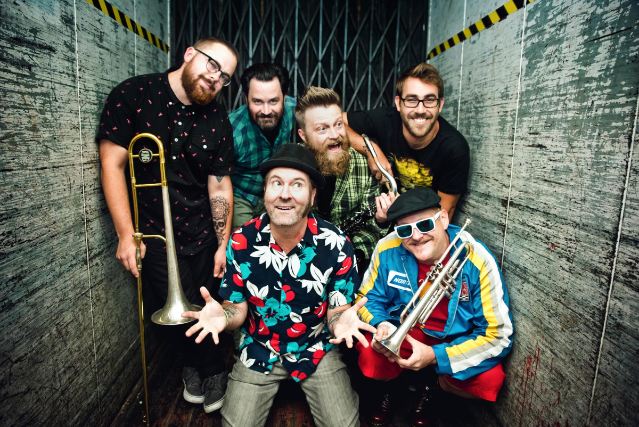 Reel Big Fish were one of the legions of Southern California ska-punk bands to edge into the mainstream following the mid-'90s success of No Doubt and Sublime. Like most of their peers, they were distinguished by their hyperkinetic stage shows, juvenile humor, ironic covers of new wave pop songs, and metallic shards of ska. The group cultivated an underground following that broke into the mainstream in summer 1997, when the single "Sell Out" became a modern rock radio and MTV favorite. Reel Big Fish's popularity gradually waned in the subsequent years, following the decline of ska-punk as a marketable genre. Nevertheless, the band restructured its lineup and continued issuing new material to a smaller (yet considerably rabid) fan base. Based in Huntington Beach, California, Reel Big Fish were originally a trio comprised of vocalist/guitarist Aaron Barrett, bassist Matt Wong, and drummer Andrew Gonzales. At that stage, the group was a conventional rock band with pop-metal leanings that covered both classic rock and Top 40 songs --essentially, it was music designed for frat parties. After several months, the band discovered ska and decided to bolster its lineup with the addition of horn players. Reel Big Fish had a difficult time maintaining a stable horn section, and it took several years before their final lineup -- featuring Tavis Werts (trumpet), Scott Klopfenstein (trumpet, vocals), Grant Barry (trombone), and Dan Regan (trombone) -- fell into place. Everything Sucks This definitive incarnation of Reel Big Fish recorded its self-released debut album, Everything Sucks, in 1995. Everything Sucks became a word-of-mouth underground hit in ska-punk and college circles, which gave the band enough leverage to sign with the indie label Mojo Records. The label's president, Jay Rifkin, and former Oingo Boingo bassist John Avila co-produced Turn the Radio Off, which marked the band's first album for Mojo. Turn the Radio Off was unleashed in August 1996, and over the next year, Reel Big Fish continually toured in support of the album's release, expanding their fan base all the while. In spring 1997, the single "Sell Out" began receiving heavy airplay from several influential modern rock stations in the U.S., which soon translated into MTV support for the song's quirky video. By summer, the song had become a moderate modern rock hit, and the album had charted in the Top 100. In July 1997, Reel Big Fish released the Keep Your Receipt EP, which contained "Sell Out" and several outtakes, new songs, and live cuts. Why Do They Rock So Hard followed a year later, and in early 2000 the band returned with a reissued version of Everything Sucks. Cheer Up!
The guys wound up on Jive Records in fall 2001 when their current label, Mojo, was bought by Jive's parent label, Zomba. Reel Big Fish's first release for Jive, a rock-oriented record entitled Cheer Up!, appeared in mid-2002. Years of touring followed, during which the band shared stages with the likes of Sum 41, Catch 22, Lucky Boys Confusion, the Matches, and Zebrahead. Replacement drummer Carlos de la Garza (formerly of Suburban Rhythm) eventually decided to leave the lineup, and his last show with the group was recorded live at Anaheim's House of Blues in June 2003. A DVD of that performance, The Show Must Go Off!, was released by the end of the year, and the band's next album, the cynical yet catchy We're Not Happy 'Til You're Not Happy, was issued in April 2005. By this time, the group's lineup had shifted to include Barrett, Regan, Klopfenstein, Wong, new trumpeter John Christianson, and drummer Justin Ferreira (who was later replaced by Ryland Steen). Our Live Album Is Better Than Your Live Album Touring continued for the rest of the year, and Reel Big Fish happily parted ways with Jive in January 2006, having wished to be dropped from the label since Cheer Up!'s release. A co-headlining tour with MxPx followed that summer, allowing Reel Big Fish the chance to gain their footing as an independent band. In August, the group self-released a double-disc live CD (along with an accompanying DVD) titled Our Live Album Is Better Than Your Live Album. A few months later -- and much to the annoyance of the band -- Jive issued its own Reel Big Fish album, a best-of compilation entitled Greatest Hit...and More. Reel Big Fish received no money from the album's sales, as Jive Records now owned the rights to the bulk of their songs. Duet All Night Long Nevertheless, Reel Big Fish returned with some new material in February 2007, splitting an EP (Duet All Night Long) with their friends in Zolof the Rock & Roll Destroyer. Monkeys for Nothin' and the Chimps for Free followed several months later, marking the group's first full-length studio release since leaving Jive's roster, and 2009's Fame, Fortune and Fornication found the band covering songs by the likes of Poison, Slade, and Tom Petty. In 2011, longtime member Scott Klopfenstein left Reel Big Fish to focus on raising a family, with Goldfinger's Matt Appleton taking over for him. The following year, the band released its first album of new material in five years, Candy Coated Fury.
The Aquabats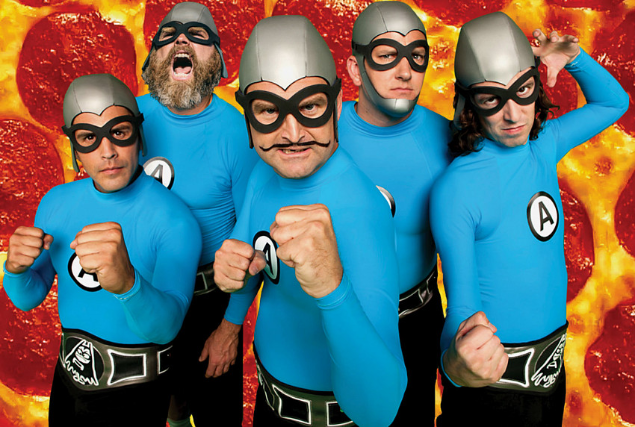 In fall of 2018, thousands of Aquabats fans young
and old stood up and proclaimed, "I am The
Aquabats!," by joining the band's Kickstarter and
raising over $690,000 – funding two new full-length studio albums and 12 webexclusive
episodes of their Emmy Award-winning kids' show The Aquabats! Super
Show!
Now the group carries that momentum in 2019 with their first release since 2011's
Hi-Five Soup! The Aquabats! Super Show! Soundtrack Vol. 1 is a 27-track genredefying,
high-energy celebration of the wackiness that made Super Show! some of
the most unique kids' TV in the last decade. Fans of the show and The Aquabats'
music alike will love getting their hands on never-before-heard extended versions of
tunes from the show, including "Burger Rain," "Feel My Steel" and "The Dude
Theme."
Look for 2 new songs from the soundtrack to release on April 26, plus a video for
fan-favorite song "Feel My Steel" on May 15. The Aquabats! Super Show!
Soundtrack Vol. 1 will be available on CD, vinyl and digital download on June 7.
2019 marks the band's 25th year and promises to be one of their best yet. A full
touring slate will span the summer, where we'll see The Aquabats hit the road with
longtime friends Reel Big Fish from June 28 to July 21. The year will round out with
West and East Coast headlining tours in the fall to coincide with the release of their
first fan-funded full-length studio album in October.
About The Aquabats
TV's punk rock superheroes The Aquabats formed in 1994 in Orange County as a
way to have some harmless fun in a music scene that took itself too seriously. Their
Paul Frank designed "power belts," trademark blue rash guards, black eye masks,
"anti-negativity" helmets and onstage antics quickly caught on, earning the group a
fiercely loyal following that spans generations. Their line-up and music is
continuously evolving, including Blink 182's Travis Barker as former drummer
"Baron Von Tito." To date, The Aquabats' music library includes The Return of the
Aquabats (1996), The Fury of the Aquabats! (1997), The Aquabats vs. The Floating
Eye of Death (1999), Myths, Legends and Other Amazing Adventures, Vol. 2
(2000), Yo! Check Out This Ride! (EP, 2004) Charge!! (2005), Radio Down! (EP,
2010), Hi-Five Soup! (2011).
Current Aquabats are Christian Jacobs, "The MC Bat Commander" (lead singer),
Chad Larson, "Crash McLarson" (bass, vocals), Ian Fowles, "EagleBones
FalconHawk" (guitar), Richard Falomir, "Ricky Fitness" (drums), and James Briggs,
"Jimmy the Robot" (keyboards, woodwinds, vocals).
About The Aquabats! Super Show!
In 2012, the band debuted The Aquabats! Super Show!, a live-action musical
comedy television series which aired on the Hub Network. Known for its bizarre
humor, callback style and celebrity guest appearances ("Weird Al" Yankovic,
Tony Hawk, Mark Mothersbaugh, Lou Diamond Phillips, Rhys Darby, Jon
Heder, Paul Scheer and more), the show received eight multiple Daytime EMMY
nominations and one win. Super Show!'s run was cut short when The Hub closed
in 2014, leaving fans consistently asking for a return.
Dog Party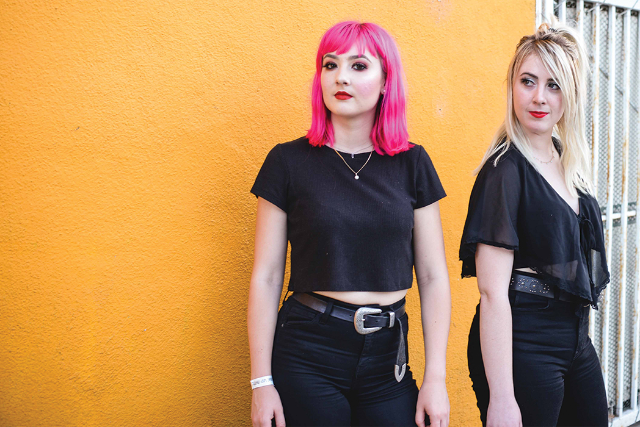 California-based, indie rock band, composed of sisters: Gwendolyn and Lucy Giles.
Drawing influences from: The Go-Go's, The Ramones, The White Stripes, and The Runaways - Dog Party establishes their own unique West Coast sound with a dash of punk rhythm and a sprinkle of pop vibes. With 6 albums and extensive National/International touring under their belts, Dog Party's been active since 2007.
In fall of 2016, they were the Special Guests on Green Day's "Revolution Radio" North American tour.