99 Rock Presents
Drowning Pool
with Adelitas Way, Otherwise, Moon Fever, Above Snakes
Fri, Mar 17
Doors: 6:00 pm
Show:

6:30 pm
Ages 16 and Up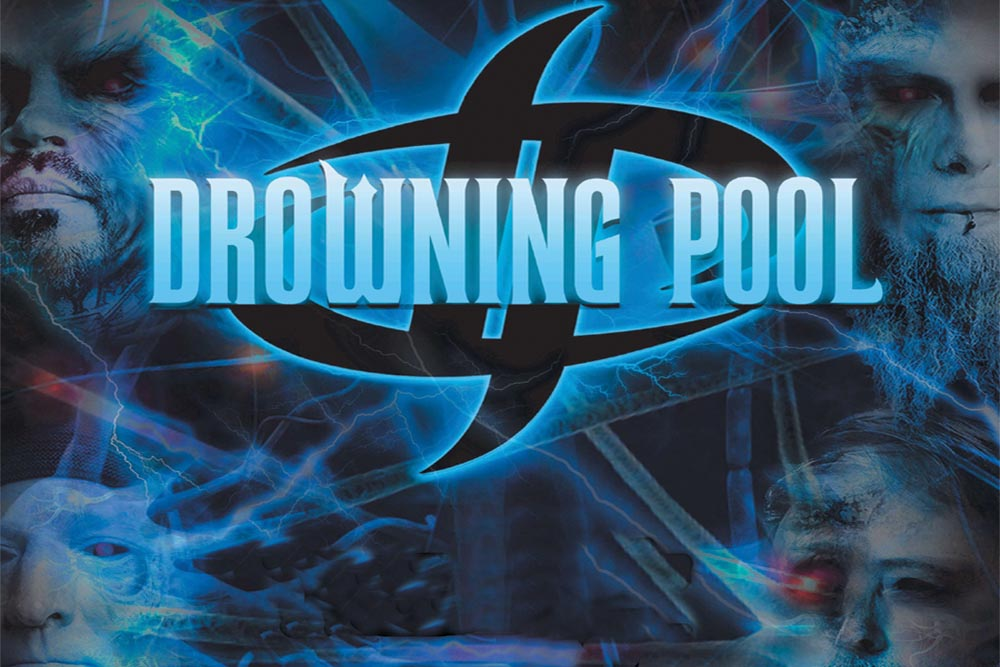 Additional Info
This event is partially seated.
To see a large version of the seating chart go here: https://irp.cdn-website.com/6f06eb1e/dms3rep/multi/Full+Seated+and+Standing.jpg
Artists
Drowning Pool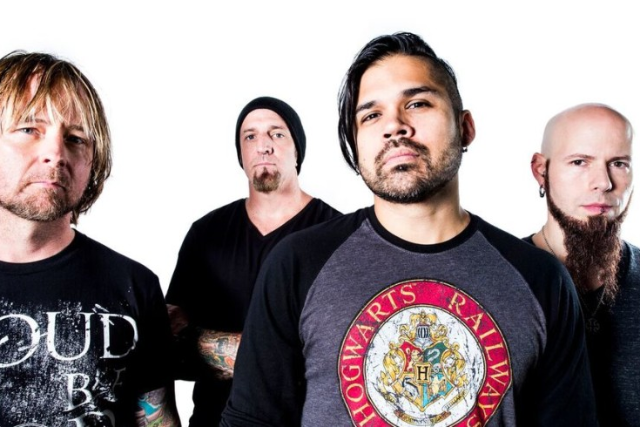 Giant riffs, crowd moving grooves and monstrous vocals are the tools with which DROWNING POOL build triumph out of tragedy, steadily evolve without compromise, and remain true to their supporters with over a decade's worth of remarkable fortitude and attitude. HELLELUJAH is absolutely the album their diehard fans demanded and the aggressive heavy rock world at large deserved.
The platinum­plus conquerors from The Lone Star State deliver their heaviest batch of hell raising anthems, each burning with fiery adrenaline destined to light the radio ablaze and ignite crowds into impassioned sing­alongs. Only a few seconds into the album's first single, "By the Blood," it's evident that Hellelujah is the most aggressive, ambitious, and truly definitive Drowning Pool album since Sinner, the platinum platter that gave the world Top 20 rock radio hit "Tear Away" and the massively successful "Bodies."
It doesn't get more brazenly defiant than Drowning Pool Hellelujah bangers like "We Are the Devil," "Goddamn Vultures," or "Push": forward thinking modern rock anthems incorporating classic elements of brutal grooves with melodic power that never once sounds weak. C.J. Pierce's guitar work is devastatingly crunchy yet dynamically colorful, locking in perfect sync with the charging rhythms of fellow cofounders Stevie Benton on bass and Mike Luce on drums, as Jasen Moreno's vocals forge venom and bile into hooks.
Drowning Pool have scorched the stage alongside a who's­who of genre legends, upstarts and everything else on the spectrum, including Ozzy Osbourne, Mötley Crüe, Papa Roach, System Of A Down, Kiss, Korn, Sevendust, Seether, Hellyeah, P.O.D., Five Finger Death Punch, Black Label Society and stints on Ozzfest with Metallica, Rob Zombie, and Marilyn Manson.
Each of Drowning Pool's last three albums debuted in the Top 5 on Billboard's Hard Rock chart, cementing the legacy established by their legendary platinum debut, Sinner,which the band celebrated with a 13­year anniversary special edition and tour. Moreno's massive pipes enabled him to quickly master Drowning Pool's dense catalog when he became the band's frontman in 2012. From his reverent delivery of the late Dave Williams mosh­pit ready lyrics in the ubiquitous signature hit "Bodies" to his powerful take on Top 5 Active Rock hits like "Step Up" from Desensitized (2004), "37 Stitches" from Full Circle (2007), and "Feel Like I Do" from their self­titled album (2010). As Revolver Magazine noted in their detailed review of Resilience (2013): "Drowning Pool continue to produce consistently killer albums with an unmistakable sound."
Hellelujah (2016) is unfiltered and uncompromising, representing a band free to say, play, and do what they please, thanks to the unending support of their fans. Their shared loyalty, drive, and passion resulted in what Moreno describes as a "bad attitude record," an album that pulls no punches with inspired confrontation. Producer Jason Suecof (All That Remains, Trivium, Demon Hunter) was the
perfect man to capture the blend of metallic roots and instantly memorable choruses, riffs, and wickedly upfront lyrical assaults.
Drowning Pool songs conjure emotions that deeply connect with those who persevere against the odds and sacrifice to survive, whether it's a military soldier serving overseas, or a blue­collar family trying to make ends meet. Their music transcends boundaries of race, class and lifestyle as well, resonating with people from all walks of life who look to music to get them through life's challenges. The band's Texas­sized crunch and gregarious, charismatic personalities catapulted them to platinum status and hard rock royalty in the early 2000s alongside contemporaries like Disturbed, Godsmack, and Slipknot. They've toured with Ozzy Osbourne. They regularly perform for U.S. Troops, traveling as far as the war zones of the Middle East to the outposts of Southeast Asia. They personally encouraged then­Senator Barack Obama to push through the Lane Evans Health Act, which improved healthcare for veterans.
Big sonic slabs of muscular power with a taste of the dark melodies of post­grunge remain Drowning Pool's stock and trade. Their music is an unapologetic celebration of life's joy and pain, able to swiftly maneuver between defiant declarations of resistance. Each distinctive era of the band's history is represented onstage, where the band bashes through an arsenal of anthems all delivered with precision strength. The Hellelujah songs (with more contributions from all four members than ever) pulse with the power of all that's come before and a reinvigorated hunger for the future. Drowning Pool celebrate the past while firmly focused on the present, coalescing into a brightly lit artistic future.
Adelitas Way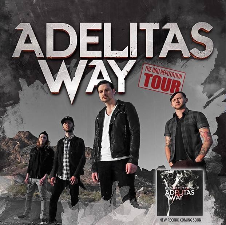 Founded in 2006

Band Members
Rick DeJesus, Tre Stafford,Robert Zakaryan, Andrew Cushing

Hometown: Las Vegas, NV

Short Description

We have Four albums out now available on iTunes, at Best Buy, Apple Music, Amazon music, and Spotify
Snapchat: @ Adelitas-Way
Otherwise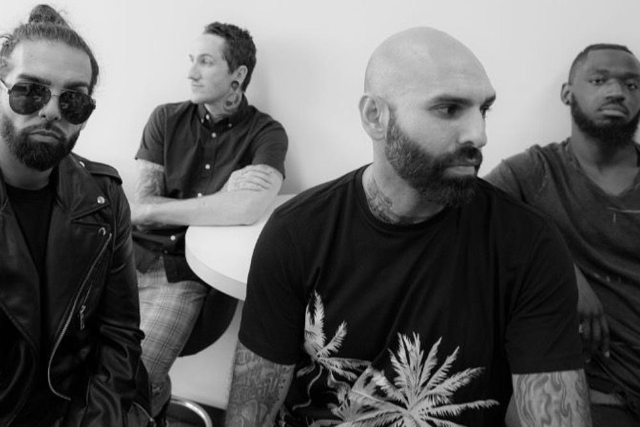 Peace comes through struggle.It's a reward that's earned rather than simply given. It's the product of tireless work and an unbreakable spirit against all odds and opposition. OTHERWISE are no strangers to that struggle, rising up to become rock 'n' roll contenders in the face of a tumultuous musical climate and a series of personal hardships.

The Las Vegas hard alternative rock quintet—Adrian Patrick [vocals], Ryan Patrick [guitar/vocals], Corky Gainsford [drums/vocals], Vassilios Metropoulos [bass], & Andrew Pugh [guitar/vocals]—catalog the next chapter of this journey on their second full-length album, Peace At All Costs [Century Media Records].

The ride starts with that very title. Adrian explains, "Our grandmother used to always say it. Peace At All Costs is a double entendre. We interpret the phrase as, 'Give us peace, or we'll take it from you.' The whole point of us being on this musical odyssey is our search for peace. We want to do something impactful in the world, and we're not going to stop. We're starting with ourselves first. It's about finding inner peace and restoring equilibrium within yourself. Music allows us to do that."

Their music has given countless fans worldwide the same outlet. By 2014, the band's debut True Love Never Dies moved nearly 60,000 copies and spawned close to 300,000 single sales of the hits "Soldiers," "I Don't Apologize (1000 Pictures)," and "Die For You." The group toured alongside heavy hitters such as Stone Sour, Papa Roach and Three Days Grace, and gave rousing performances at high-profile festivals including Rock On The Range, Aftershock, Rocklahoma, Carolina Rebellion, and Welcome To Rockville. However, Peace At All Costs raises the stakes across the board for the Vegas outfit.

In order to convey their message palpably and potently, OTHERWISE teamed up with iconic producer David Bottrill [Tool, Muse, Staind, Stone Sour]. Holing up in Vegas View Studios, the boys pushed themselves immensely with Bottrill's wisdom and encouragement.

"He really did contribute to the vibe of the album," Adrian goes on. "Whether it was changing the tempo from section to section or altering the key, David brought these new ideas to the fold, and you can hear them in each and every song. From top to bottom, the album has a lot of personality because of his contributions."

The musicians also had the chance to experience the other side of their hometown while recording. Vegas View Studios sits on the edge of the Las Vegas Valley, offering a stunning panorama of the wilderness surrounding the city. "It was the most beautiful view," affirms the singer. "Most recording studios are like casinos. There are no windows. You go in, and you have no idea what time it is. We had a beautiful vista of our hometown, and it lent to inspiration every night we were working."

That lush expanse carries over into the first single "Darker Side of the Moon." Building from a thick distorted guitar into a robust melody, the song blasts off on a hypnotic and hard-hitting hook, opening up the doorway into Peace At All Costs.

"I've always been fascinated with the moon ever since I was a kid," affirms Adrian. "I'm still drawn to it as a grown-up. I find myself lost in it without even knowing what I'm doing sometimes. We've faced a lot of tragedies and dark times, and that song represents us. We're always going to try and look for the light in the darkness. We'll thrive there if we have to. There's a whole dark side of th
Moon Fever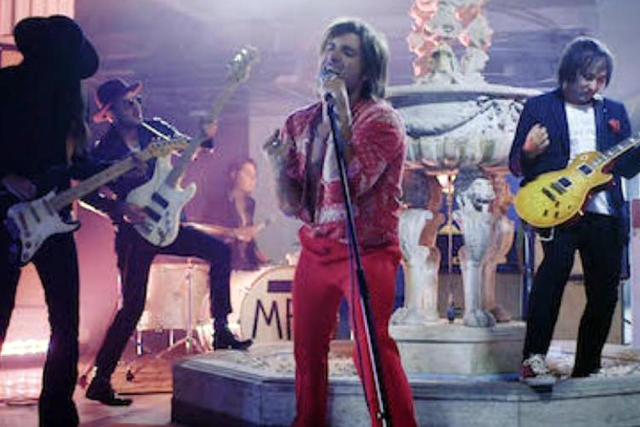 Los Angeles rockers, Moon Fever, have created a high-energy, rock and roll sound that is influenced by the great stadium bands of past generations – with a current, modern vibe.
Above Snakes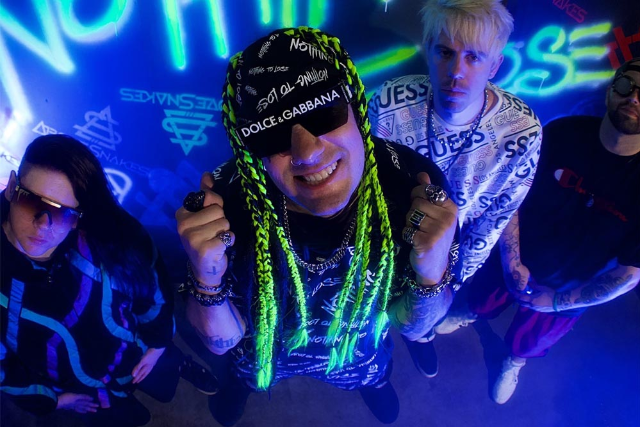 After years spent grinding in the ever-dimming lights of Hollywood, vocalist Johnny Skulls and guitarist Dax Dabs opened their eyes and realized what so many never do: "why the f*ck are we trying to do it THEIR way?" At that moment, what once felt so distorted and lacking in its luster was now crystal clear. And with nothing but the open road and their own volition staring back at them, the two joined forces after years of friendship and returned to where it all started.
In 2019, the duo found their way back home to Boston and began working relentlessly on a new project: Above Snakes. They would soon partner with producer Kile Odell (Fozzy, Through Fire, Awake At Last) and in the summer of 2020, the band released their debut track "Adrenaline", which quickly earned Spotify placements from the likes of Loudwire and Hopeless Records. "Adrenaline" was soon followed by their next single "Never Alone", and a massive placement on the "Rock Hard" playlist on Spotify.
Following the release of their latest single "I Feel Bad", Above Snakes will return to the studio with Kile Odell to complete their debut full-length record.