99 Rock Presents
From Ashes To New
with Fire From the Gods, Blind Channel, Kingdom Collapse, Above Snakes
Sat, Apr 2
Doors: 7:00 pm
Show:

7:30 pm
Ages 16 and Up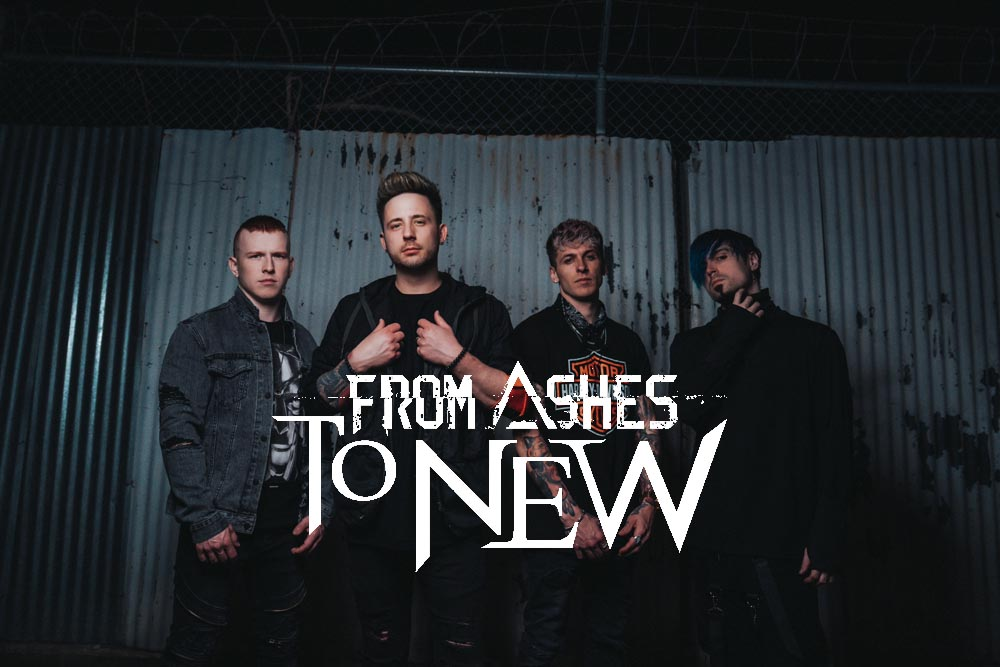 Additional Info
This event is partially seated.
To see a large version of the seating chart go here: https://irp.cdn-website.com/6f06eb1e/dms3rep/multi/Full+Seated+and+Standing.jpg
Artists
From Ashes To New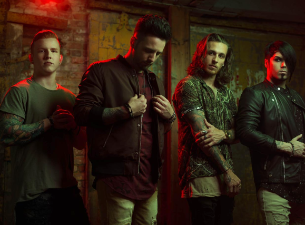 The future is something that all of us must deal with yet it's often uncertain and that was the case when it came to the making of From Ashes To New's sophomore full-length The Future.
When the band's vocalist/keyboardist/programmer Matt Brandyberry rhymes on the title track "The Future", "Day One is over, The Future's approaching, the embers are glowing, we're spreading the ash," it's not only verbal wordplay about moving forward from their most recent album Day One, it also serves as a declaration of From Ashes To New's mission statement for this album: The Future Is Hear.
The follow-up to the 2016 debut album Day One, which saw the band break into the Top 10 Active Rock Chart with the track "Through It All" and featured streaming hits "Breaking Now" and "Lost and Alone", The Future sees the Lancaster PA-based group embracing a new path, revealing a new lineup, and marking a massive step forward. "We went through an extreme level of adversity while creating this album, explains Brandyberry. "Pretty much anything that could go wrong to slow down the process and throw you a curveball happened, but we came out on the other side."
Following the success of Day One and extensive touring, the group's drummer and co-vocalist decided to step away. Instead of focusing on setbacks, Brandyberry focused on a path forward for From Ashes To New. In March 2017, he began working on the new album with drummer Mat Madiro (Trivium) and guitarist Lance Dowdle—but finding a vocalist who could complement Brandyberry's rapping was a complex process – it had to be the right fit! - so the group decided to begin writing The Future as a trio. "I was in a bad mind frame because of what was happening with the other members leaving and the anxiety made it difficult to write at times but ultimately we came together and decided we were going to write the best music we possibly could and see where that took us," Brandyberry recounts.
Once this collection of songs started coming together the group starting auditioning vocalists and Brandyberry kept coming back to Danny Case even though the singer didn't necessarily have the same amount of experience as some of the seasoned pros who wanted the gig. "We asked our fans to help us find a great vocalist, and we kept coming back to Danny because he has such a dynamic range. Being able to go across that spectrum with his voice was a huge selling feature—and not only that but the dude is driven," Brandyberry explains. "We were looking for someone who wants it, he's hungry for it and he wants to work hard and earn their success… and Danny is that guy."
From Ashes To New's chemistry lies at the core of The Future, an album that sees the band expanding their music palette and taking their blend of rock, hip/hop, pop and metal to new heights. From the relentless, syncopated groove of the opener "Wake Up" to the arena-ready anthems like "Gone Forever" and Current Single "Crazy", to the hip-hop/electronica-influenced hybrids like "My Name," The Future is a unique album that fans will undoubtedly relate to with regardless of what type of musical scene they usually embrace.
The album was written at Brandyberry's home studio and then recorded at Atrium Audio with producers Carson Slovak and Grant McFarland (August Burns Red) eventually mixed by Josh Wilbur (Korn, Lamb Of God). A last-minute experiment brought about "Nowhere to Run" recorded with Nick "Raz" Furlong and Colin Brittain (Papa Roach, Blink-182). With all this, The Future became a collaborative album in the truest sense of the phrase.
"This is the first record that other members really got a chance to put their stamp on and I think you can hear that influence on every song," Brandyberry explains, adding that he and Lance, an accomplished programmer, were able explore new sonic textures by combining the organic and electronic aspects of From Ashes To New in a way they've never fully realized in the past.
Speaking of which, The Future also sees Brandyberry taking everything to an entirely new level in a way that perfectly complements the bands roots and the impassioned singing of Case. "Songs like (the album's stellar title track)'The Future' is the best rap I feel I've ever written and features a children's choir "I think that song in particular has a perfect blend of everything that we do. I really love the raps on that track because I feel like it really challenged me and hopefully shows how I've been able to grow and find new ways of executing ideas as an artist and a writer with this record."
"The concept is obviously about the future of the band but it's also the future of our world," Brandyberry continues. "We're actually happier now with what we are putting out than we've ever been, so we look at everything went through as a blessing in disguise." Whether you're a longtime supporter of the band or a recent convert to their innovative sound there's no question that The Future established them as one of the leaders of their genre. Now it's time to make that future a reality.
Fire From the Gods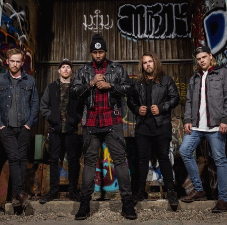 Heavy music deserves a heavier message.

That's what Fire From The Gods deliver on their Rise Records debut, Narrative.

Speaking from a platform cast in heavy metal power, hip-hop consciousness, and even a little reggae spirit, the Austin, TX quintet—AJ Channer [vocals], Jameson Teat [guitar], Drew Walker [guitar], Bonner Baker [bass], and Richard Wicander [drums]—urge for change through conveying a story that's both personal and universal.

That story stems directly from AJ's life. Born in the Bronx to a single mother of Jamaican descent, he spent his childhood moving between London, New York City, Los Angeles, Norfolk, and even Ghana where he attended middle school. Drawing from this diverse experience, he speaks with unmitigated honesty about the state of the world.
Blind Channel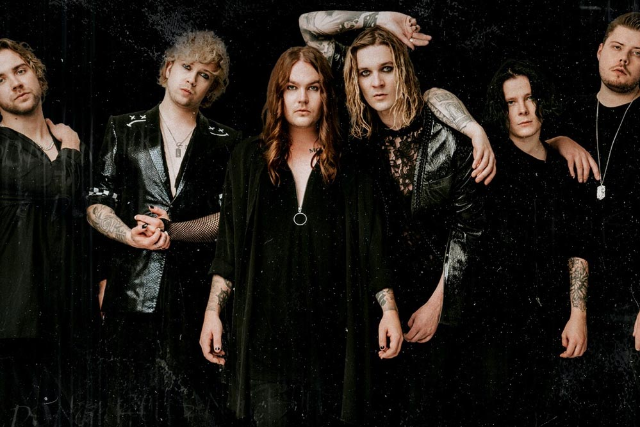 After spending 2021 getting bigger and bigger, Blind Channel are now gearing to unleash their new album upon the world.

It's called 'Lifestyles Of The Sick & Dangerous' and will be released on July 08 via Century Media.

The band had this to say about it:

"This album is a memento of the toughest, yet the best couple of years in our lives. We captured the ups and downs, ranging from the point of breaking down to finally blowing up. We wouldn't change a note. Come witness the Lifestyles Of The Sick & Dangerous."
Kingdom Collapse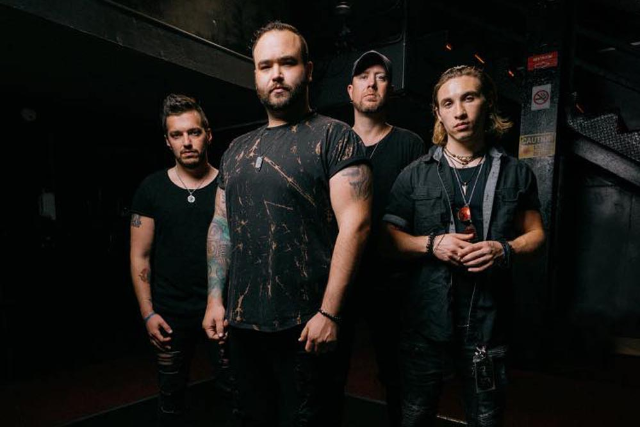 Relevance. It is one of the most innate human desires; to know that we are not alone and that others go through the same struggles. This is why the Texas-based band, Kingdom Collapse, is carving out their spot in the rock world. They seek to give a voice to people who share similar troubles and crave relevancy in an apathetic world.
The world responded to a relevant theme of betrayal when their first single, "Suffer," amassed over 5,000,000 YouTube views and 900,000 Spotify streams organically. The group's 2020 hit radio single, "Uprise," broke into the Billboard Mainstream Rock Top 40 as well as the Mediabase Active Rock charts for 9 weeks straight. "Uprise" went on to become Sirius XM Octane's #1 Most Played song for two consecutive weeks and has since accumulated over 1,600,000 Spotify streams, tipping the band's total stream count over 3.5 million.
The group features Jonathan Norris on vocals, David Work on guitar, Aaron Smith on bass and Elijah Santucci on drums. Together, with a mutual vision, they are bringing their shared experiences to the masses and looking to help as many people as they can with a feeling of solidarity.
The band's 2021 follow-up radio single, "Unbreakable," is an anthem that is emotionally honest and relevant to today's times. Written and produced by lead singer, Jonathan Norris and mixed/mastered by Chris Mora of War Horse Recordings, it sends a positive message to listeners by teaching that even life's hardest moments can be a benefit. Norris writes, "'Unbreakable' comes from a lyrical standpoint of looking back at various struggles that life has thrown at you and coming to realize that those struggles ultimately made you stronger. We've all been there, and it's about finding the silver lining in the midst of dark times."
Kingdom Collapse has been playing stages across the US and has already shared the stage with the likes of 10 Years, From Ashes To New, Cold, Red, Saliva and many other hard rock heavy-hitters. In May of 2021 the band signed with one of the leading booking agencies in the industry, Dynamic Talent International, and will be announcing more tour dates soon.
Above Snakes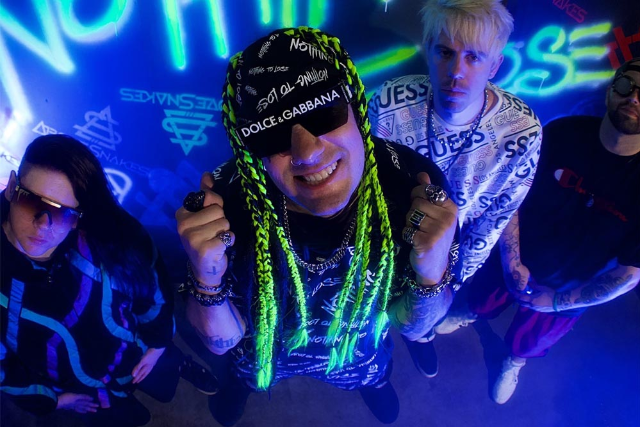 After years spent grinding in the ever-dimming lights of Hollywood, vocalist Johnny Skulls and guitarist Dax Dabs opened their eyes and realized what so many never do: "why the f*ck are we trying to do it THEIR way?" At that moment, what once felt so distorted and lacking in its luster was now crystal clear. And with nothing but the open road and their own volition staring back at them, the two joined forces after years of friendship and returned to where it all started.
In 2019, the duo found their way back home to Boston and began working relentlessly on a new project: Above Snakes. They would soon partner with producer Kile Odell (Fozzy, Through Fire, Awake At Last) and in the summer of 2020, the band released their debut track "Adrenaline", which quickly earned Spotify placements from the likes of Loudwire and Hopeless Records. "Adrenaline" was soon followed by their next single "Never Alone", and a massive placement on the "Rock Hard" playlist on Spotify.
Following the release of their latest single "I Feel Bad", Above Snakes will return to the studio with Kile Odell to complete their debut full-length record.