99 Rock Presents
Nonpoint
with Blacktop Mojo, Saul
Sat, Oct 2
Doors: 6:00 pm
Show:

7:00 pm
Ages 16 and Up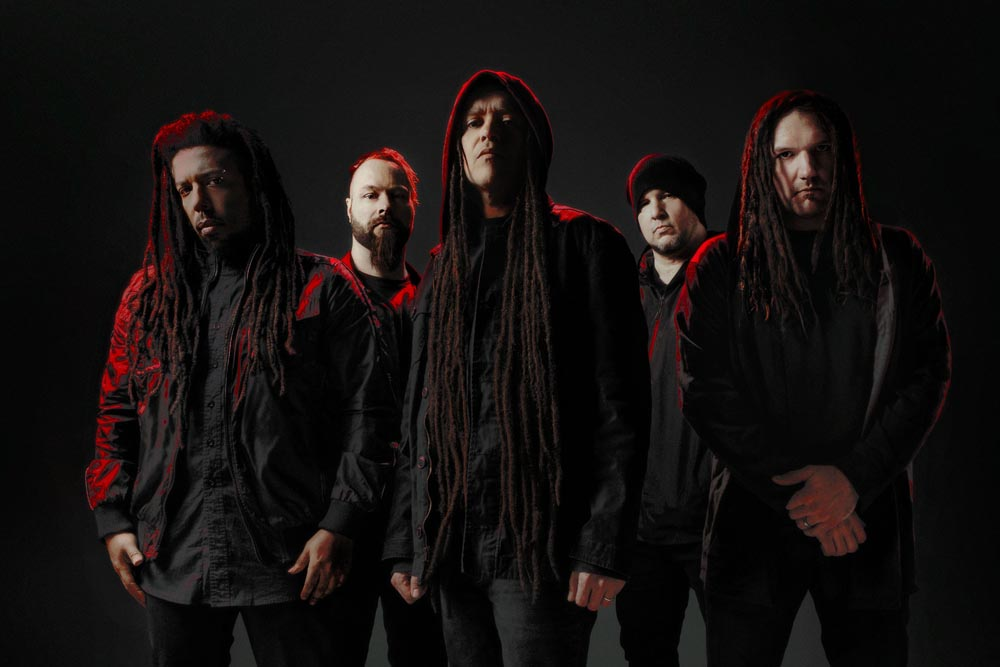 Additional Info
This event is partially seated.
To see a large version of the seating chart go here: https://irp-cdn.multiscreensite.com/6f06eb1e/dms3rep/multi/Open+Floor+Seating+Chart+Club+LA.jpg
Artists
Nonpoint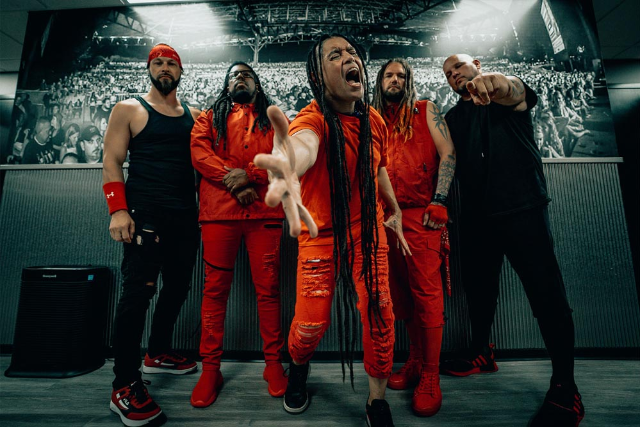 Commitment to forward motion ensures longevity.

After 20-plus years, ten full-length releases, countless sold out shows, and over one million albums sold worldwide, Nonpoint endure through sustaining an unbreakable bond among themselves and to a diehard fan base all over the globe.

On 2018's aptly titled tenth offering, X [Spinefarm Records], the quintet—Elias Soriano [vocals], Robb Rivera [drums], Rasheed Thomas [guitar], Adam Woloszyn [bass], and Jason Zeilstra [guitar]—not only maintain the momentum, but also amplify the intensity. Signature grooves hit with haymaker force bolstered by hip-hop cadences, thrashed-out six-string precision, and unshakable melodies.
Reaching this milestone, time increased the hunger they shared.

"As long as people want us to keep writing records, we're going to keep writing records," exclaims Rivera. "We have a special understanding in the studio, and the chemistry has only gotten better. We live for every moment on stage. We don't want to ever stop."
"I don't see why we shouldn't be on our tenth record," Soriano admits. "Since we are so deep into our career, we wanted to do something serious for number ten. We really took our time. We've been honing in on writing something like this for two decades. Every single song received its due. Now, our end game is just to go until the fucking wheels come off."

Since their 1997 formation in Fort Lauderdale, FL, that mindset has fueled every move. 2000's Statement lived up to its name, introducing a hypnotic hybrid of deft lyricism and crushing hooks evinced by the breakout single "What A Day." Following Development in 2002, Recoil spawned a hyper-charged cover of Phil Collins' "In The Air Tonight," which went on to soundtrack a key moment of the 2006 Miami Vice blockbuster reboot starring Academy® Award winner Jamie Foxx. Meanwhile, To The Pain represented a high watermark. It impressively sold 130,000 copies stateside as "Bullet With A Name" and "Alive and Kicking" emerged as radio and concert staples.

Never slowing down, Vengeance [2007] and Miracle [2010] set the stage for the one-two punch of Nonpoint [2012] and The Return [2014]. The latter bowed at #1 on the Billboard Top Hard Rock Albums Chart, #3 on the Top Alternative Albums Chart, #5 on the Top Independent Albums Chart, #7 on the Top Rock Albums Chart, and in the Top 40 of the Top 200. Additionally, its lead single "Breaking Skin" stood out as "the most-played song on SiriusXM for 2015." Album number nine The Poison Red continued the current hot streak two years later as the band regularly averaged over 650K monthly listeners on Spotify. Along the way, they've held their own on bills alongside everyone from Disturbed and Megadeth to Papa Roach and Stone Sour.

Preparing to kick off a new chapter, the guys did something they hadn't done in thirteen years…

"We took almost a year off," recalls Rivera. "When we did get back together, nobody posted anything on social media. We dove right into it quietly and without expectations. It felt great to have the time."

Returning to Chicago, Nonpoint congregated in a room, jammed, and created music on-the-spot, leading to "the perfect reintroduction to the writing process." With Fred Archambault [Avenged Sevenfold] behind the board as producer at Uptown Recording Studio, they laid down all ten tracks in 22 days.
"We joke that he was our 'Captain Jack Sparrow'," smiles Soriano. "He was really encouraging. It was a breath of fresh air, and it brought us to another level. It goes without saying we'd love to work together again."

X opener "Empty Batteries" kicks in the door with a battering ram riff underscored by an airtight beat. Written with the intention of "creating an introduction," the flurry gives way to a haunting, hypnotic, and huge refrain.

"For the most part, it's really about looking inside," says the frontman. "You're reaching down, getting into a battle with yourself, and realizing there's more to be done. A lot of people today need coaching or permission to fill their batteries—but they can do it themselves. They simply need to have a fucking dream and a goal. You're getting the last little bit of gusto, refilling it, and going again."

"Chaos & Earthquakes" hinges on airy guitars, resounding keys, ripping solos, and rapid-fire flows before a pummeling chant. "It really discusses the state of things lately," he goes on. "We're watching an end-of-days scenario play out constantly in the media. The lyrics urge getting away from the madness. I, myself, literally stopped watching. I didn't want to feel that anymore."

Elsewhere, "Fix This" builds from a hushed verse towards one of the group's catchiest choruses yet, "You don't really want to fix this." The power goes from zero to sixty on "Dodge Your Destiny" as the closer "Position One" leaves a relatable final word under poetic spitting and squealing string bends. "It happens to all of us," adds Soriano. "You want to move forward, but you're stuck in a circular lifestyle. You can break the cycle though."

In the end, Nonpoint will never stop, and the legacy only grows with X.

"It's probably our best record we've done musically," Rivera leaves off. "There are elements of every album. We put it all on the line. I hope fans walk away satisfied."

"Nonpoint is part of our DNA," concludes Soriano. "Our families and friends all know how deep-rooted all of us are in this project. It's defined us for over two decades. We're pretty fucking lucky and blessed."
Blacktop Mojo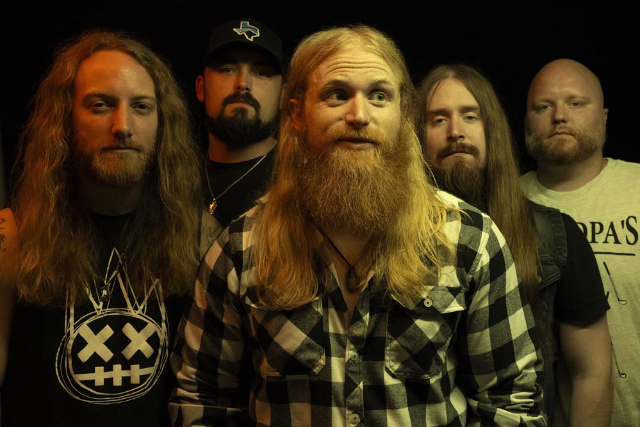 Formed in late 2012 by vocalist Matt James and drummer Nathan Gillis in the small East Texas town of Palestine, Blacktop Mojo's fiery blend of sludgy grooves, classic rock guitar riffs, and southern metal shredding falls somewhere between Soundgarden and Lynyrd Skynyrd to form a sound deemed by some as "Texas Grunge". The music draws on a multitude of genres and styles to form a hodgepodge of dirty, heavy rock and roll mixed with sensual and at times even, carnal blues.

After their debut album "I Am" in 2014, The band spent a few years cutting their teeth in dive bars, dancehalls, and honky tonks around Texas. In 2017, during the recording of their sophomore record "Burn The Ships" the guys quit their day jobs, moving into a small house together in Palestine. The house created an unbreakable fellowship between the band and a culture of constant creativity.

Released via their label Cuhmon Records, "Burn The ships" yielded two top 40 singles on the Mainstream Active Rock charts including "Where The Wind Blows" (#27) and a cover of the Aerosmith classic, "Dream On" (#31). After the album cycle and touring for "Burn The Ships" concluded, the guys returned home in 2018, where they locked themselves in the band house for six months to write their third record, "Under The Sun". The record yielded them another top 40 single in "Can't Sleep" (#27) and the band continued touring in the US through the beginning of 2020.

Locked down with the rest of the world and unable to continue touring, the guys began work on their fourth, self-titled album, which is slated to be released in Summer of 2021.
Saul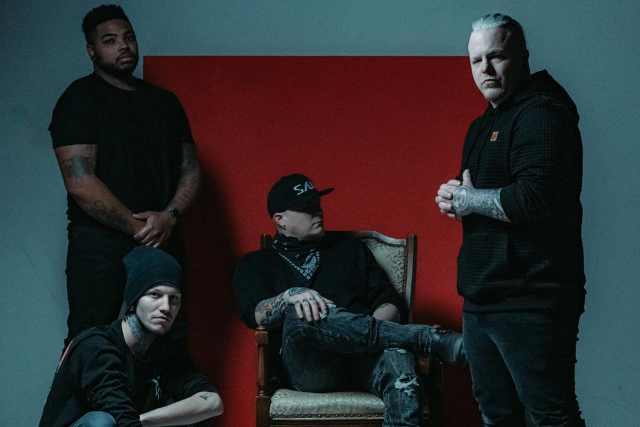 The Iowa based hard rock band SAUL is the result of a profound passion for music shared by brothers Blake and Zach Bedsaul. They always knew music would be their life and worked tirelessly to develop a sound that pushes the boundaries of modern rock music. SAUL places a great amount of focus on writing songs that mean something. Forming their sonic inspiration listening to bands like Tool, Pearl Jam, Nothing More, and Tesseract, the band went through a few lineup changes after high school, but the sound was starting to take shape. Blake and Zach had a vision and kept writing and working tirelessly until they brought that vision to life. That vision is a sound that is both modern and precise, but also chaotic and turbulent.

SAUL has now rounded out its lineup to include William McIlravy (Bass guitar/Backup Vocals), Joe Nichols (Drums), Blake Bedsaul (Lead Vocals), and Zach Bedsaul (Lead Guitar/Backup Vocals). Everyone shares the same passion and the music reflects their chemistry as a band.

SAUL is already gaining massive amounts of attention in their home state of Iowa and beyond. Bringing in new fans with every performance, you can hear the soul of the music and get lost in its timeless, aggressive, and haunting melodies.

Set to release their debut studio effort (AEONS) in the spring 2019, SAUL isn't holding anything back. The first single is an emotional roller coaster about death and the struggles of dealing with loss. "Brother" is the embodiment of the band and its message. It is how music should be. It's real, raw, aggressive and satiated with intent.

Front-man Blake Bedsaul states the following in regards to the new single, "Lyrically, this song defines what I should have said to my brother in his last moments. This song cuts deep for me and It's a constant reminder that life is fleeting. Tell the people in your life that you love them."

On January 24th, 2019 SAUL plans to announce their arrival by not just tapping you on the shoulder, but punching you in the face with their lead single, "Brother".

Keep an ear out for the track on radio airwaves nationwide.